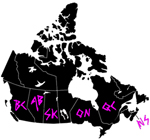 http://weirdcanada.com/2009/12/interview-tobias-rochman-from-montreals-grand-trine/
It's no secret that Weird Canada is one of my favorite websites around. Definitely the best new blog of 2009. It has all the keys for success: content, simplicity and focus. Zach interviewed me and originally when we did the interview it was going to be for his blog
Avant-Lard
(also good), but after he pitched it to Weird Canada and they were into posting it. I am in ultra windbag ramble mode and my brain is picked clean.
**
We are heading back into the studio this weekend to record tracks for our split 7" with Black Feelings (will be released at Il Motore with Red Rockets Glare Feb 26th). We are going to record some extra tracks and maybe they will be released if someone wants to commit them to wax in the new year.
Pre-orders for the 12" go up next week and we'll post a new track and get rid of the old ones and all that jazz.
Also "Monochromatic Youth" is going to be used in a trailer for a post-apocalyptic love story that was shot in Halifax. I'll post that if I see it.